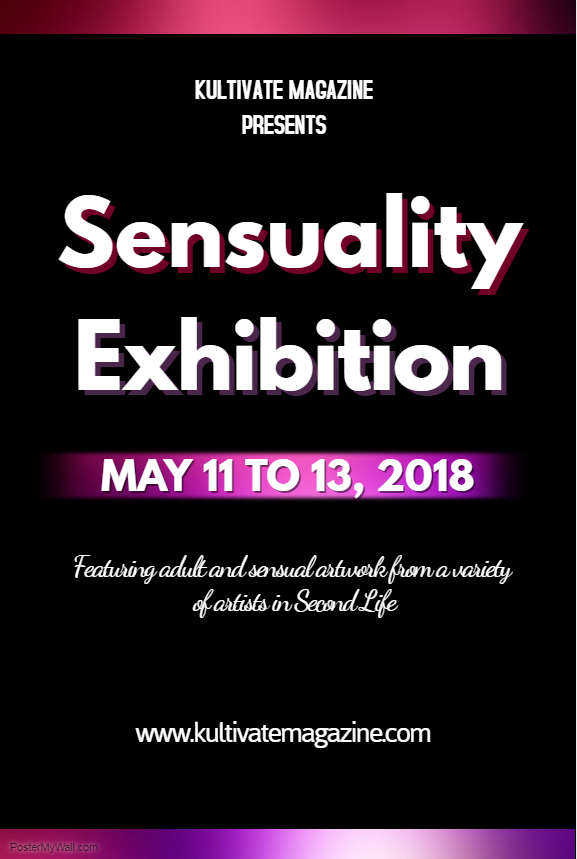 FOR IMMEDIATE RELEASE 
MAY 11, 2018 
2ND ANNUAL SENSUALITY EXHIBITION 
DATES: MAY 11 TO 13, 2018 
WEBSITE: https://kultivatemagazine.com/sensuality-exhibition/ 
SLURL:  http://maps.secondlife.com/secondlife/Water%20Haven/187/133/1513
Kultivate Magazine presents the 2nd Annual Sensuality Exhibition. This special exhibition is the only adult themed art show that is curated by Kultivate and will take place May 11 to 13, 2018. The exhibition features a variety of sensual,  erotic, adult, and sexual imagery. **Please note that the location will be adult rated and themed.** 
Events include live music, dj parties, a special raffle, photo challenge, and hunt. Exhibiting artists include: eruca Tammas, Rasecel Masatada, bri graycloud, Ramsa Luv,
maaddi, chey5620 resident, SeasidePurcell Resident, retroye resident, Fafnir Kiranov, ChristianAyden Resident, Myra Wildmist, reycharles resident, Hadiya Draper, damien0krux, Darrian Royce, Raddick Szymborska,Isle Biedermann, Sparklybootie, lovingdiscord, Kapaan, Karma Weymann, Cyberspy, FiordiligiDaPonte Resident, &  Johannes1977 Resident.
Schedule of Events:
May 11, 2018:
-8 am slt-Exhibition Opens to the public
-8 am slt-Hot Kiss Hunt Opens to the public
-8 am slt-Sensuality Raffle Opens
-8 am slt-How Sensual Are You Photo Challenge Opens
-4pm to 5pm slt-As Bare As You Dare event with live performer Jaq Luik
May 12, 2018:
-1pm to 2pm slt-Naughty Trivia & Angels N Demons Party
May 13, 2018:
-12pm to 2pm slt-Sensuality Whips & Chains Masked Ball
-8 pm slt-Exhibition, Sensuality Raffle, How Sensual Are You Photo Challenge & Hot Kiss Hunt Ends
About Kultivate Magazine:
Kultivate Magazine is a publication about the cultural aspects of Second Life. The goal of Kultivate Magazine is to support art, culture, photography, music, and fashion. Kultivate Magazine consists of the magazine, The Edge and The Edge Gallery of Black and White Imagery, The Windlight Art Gallery,  The Kandis Gallery of real life imagery, The Kultivate Select Gallery, Ristorante Ivanna, & The Tribute and Crown Pub. Kultivate Magazine is proud to be the media partner and primary sponsor of Team Diabetes of Second Life, an official and authorized team for The American Diabetes Association.
For More Information:
https://kultivatemagazine.com/sensuality-exhibition/
www.kultivatemagazine.com